Awards & Prizes 2019
Name of Award
Cup
Prize
Paper / Poster Title
Winner 2019
Best Scientific session paper
CDA Trophy
£300
O02: Are blood tests for drug hypersensitivity useful: a 5-year, single-centre retrospective study
Y. Teo, W. Haw, M. Polak and M. Ardern-Jones
DermSchool 2019 Poster Presentation Winner (Medical Student)
£100
D002: The effect of modulating autophagy regulatory protein ATG5 on the development and survival of MEK inhibitor-resistant metastatic melanoma cells
K. Bowler, D. Hill, G. Nelson, P. Lovat
DermSchool 2019 Poster Presentation Winner (Medical Student)
£100
D003: Audit of immunisation practice in patients on systemic immunosuppressive therapy
A. G. Ra, E. Domanne, R. Llewellyn, W. Hargreaves, E. O'Brennan
DermSchool 2019 Poster Presentation Winner (Medical Student)
£100
D005: A retrospective audit to assess the safety and efficacy of Apremilast use in Chronic Plaque Psoriasis
K. Kwan, J. Vyas
DermSchool 2019 Poster Presentation Winner
(Junior Doctor)
£100
D007: Performance of current tumour staging systems for squamous cell carcinoma
A. Ji-Xu, R. J. Besaw, C. D. Schmults
DermSchool 2019 Poster Presentation Winner
(Junior Doctor)
£100
D008: Say NO to Hypertension
B. Ferris, R. Weller
DermSchool 2019 Poster Presentation Winner
(Junior Doctor)
£100
D009: Psoriasis, obesity and cardiovascular disease: Is primary care the answer?
R. Adel
Best Poster – original study (clinical or scientific, non-pharma sponsored)
Bristol Cup for best overall 

–decision made by chair 

£100
P95: How safe are topical corticosteroids used in atopic eczema? An overview of systematic reviews
E. Axon, J. Chalmers, M. Santer, M. Ridd, S. Lawton, S. Langan, D. Grindlay, I. Muller, A. Roberts, A. Ahmed, H. Williams and K. Thomas
Best Poster – case report
£100
P66: Use of the ultraviolet B (TL01) Psoracomb for treatment of genital lichen planus–sclerosus overlap
G. Harrop, H. Cameron and C. Green
Best Registrar's paper
Trophy and cheque
£300
RF02: Skin cancer prevention in organ transplant recipients using topical treatment (SPOT): a randomized control trial
Z. Hasan, C. Proby, P. Allanson, J. Thomson, S. Hogan, V. Van-de-Velde, L. Mitchell, J. Kentley, R. Matin, J. Lear, A. Green, F. Ismail, A. Milligan, K. Wheatley, S. Bowden, C. Gaunt, I. Ahmed and C. Harwood
Best clinico-pathological paper
Cheque
£100
CPC08: Epidermolysis bullosa pruriginosa: a clinicopathological and molecular review
M. Papanikolaou, J. Mellerio, L. Liu and
J. McGrath
BSPD Best Poster
PA10: Sirolimus: the other side of the coin when treating children with vascular anomalies
A. Chacko and M. Glover
Martin Beare Paediatric
PA05: Association of metabolic syndrome with paediatric psoriasis: a case–control study
A.K. Aalemi, A.G. Hamdard and H. Chen
Darrell Wilkinson Historical Award – Winner
£100
H07: Louis Frédéric Wickham (1861–1913): biography and scientific life
S. Tareen and A. Heagerty
Historical Best Oral Presentation
H04: From Cork to Calcutta to Liverpool: Colonel Charles Donovan (1863–1951), the Irish doctor who unravelled the mystery of leishmaniasis in India
C. O'Connor
BSCA Best SpR Presentation
£100
CD06:  A sticky situation for diabetes: allergic contact dermatitis to isobornyl acrylate in continuous glucose-monitoring devices
M. Fitzgerald, S. Wakelin and M. Bruze
BSCA Best Poster Presentation
£50
CD21:  A case of occupational allergy to an acid anhydride, methyltetrahydrophthalic acid anhydride, in the aerospace industry
S. Morrow and S. Cooper
BSD Best Presentation
1st Prize
Wilson-Jones Cup
£200
DP02: Pagetoid melanocytosis: a novel use of reflectance confocal microscopy stack imaging helps differentiate benign lesions from dysplastic naevi and invasive melanoma
L. Griffin, M. Lynch, K. Ahmad, C. Hackett, N. Leonard and B. Ramsay
BSD Best Presentation


2

nd

Prize

£100
DP09: Anaplastic Kaposi sarcoma
E. Ong, A. Paolino, V. Grandi, S. Morris, B. Martin and E. Calonje
Best Psychodermatology presentation
Book Prize
PS04:  Examining neurocognitive disgust responses in patients with psoriasis
S. Moschogianis, E. Mullings, A. Bland, S. McKie, C.E.M. Griffiths, R. Elliott and E. Kleyn
BPG Prize for Best Presentation
£100
PD04:   Matrix metalloproteinases are more significantly upregulated by ultraviolet (UV)A-1 than UVC in control and xeroderma pigmentosum fibroblasts: mechanistic implications for the contribution of reactive oxygen species in the development of photoageing
M. Sethi, K. Lawrence, R. Sarkany, H. Fassihi and A. Young
BSDS Ashley Cooper Award for best presentation
£100 Book Token
DS05: Management of high-risk primary cutaneous squamous cell carcinoma in the head and neck region AFTER surgery (SCC-AFTER): results of a feasibility survey of cancer multidisciplinary teams
J. Thomson
BSDS Award for best poster
£100 Book Token
DS25: An analysis of changing patterns in U.K. Google trend data for dermatological surgery and a regional assessment of patient internet use prior to attending for surgical procedures
A. Wernham
BSDS Wooden Curette Award for contributions to the Society
Trophy
Dr Ruth Murphy
BADGEM Clinical Meeting
Best Oral Presentation
£100
BG04 The effects of oral acitretin in Papillon–Lefèvre syndrome: where are we now?

K. Molloy

, S.J. McKaig, S. Evengelina, I.L. Chapple and C. Moss
BADGEM Clinical Meeting
Best Poster Presentation
£100
BG10 Low-dose naltrexone for the treatment of Hailey–Hailey disease: a case report and literature review

N. Gopee

and S. Natarajan
BHNS Andrew Messenger Award for Best Oral Presentation
£100
BH06 A randomized double-blind, split-scalp, placebo-controlled study to evaluate the efficacy of platelet-rich plasma for the treatment of androgenetic alopecia

C.H. Tan

, J.S.S. Lee, K.T. Tan, E.C.E. Wang, R.K.W. Chan and S.Y. Chuah
BHNS Award for Best Poster Presentation
£75
BH13 The bald emoji effect: alopecia and social media
L. Asfour and M. Harries
EXHIBITION QUIZ WINNER
iPad
Dr Hareni Srenathan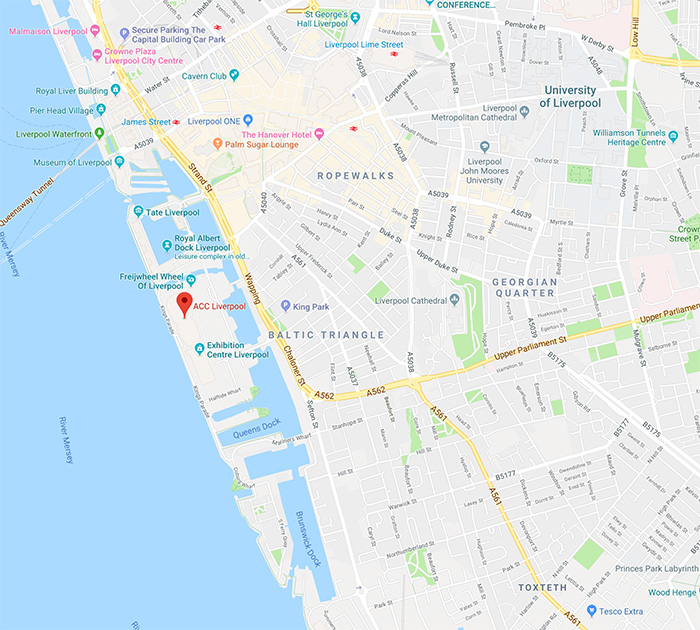 Venue Information
ACC Liverpool
Kings Dock,
Liverpool Waterfront,
Liverpool, Merseyside,
L3 4FP
Just in case your satellite navigation device doesn't recognise ACC Liverpool you can try one of the following actions:
Use the postcode L3 4BX, with the following co-ordinates – LAT:53.396007   LONG:-2.99118 (all satellite navigation units have this function)
Enter the city as 'Liverpool' and the road name as 'Queen's Wharf'
Company Name:  The ACC Liverpool Group Limited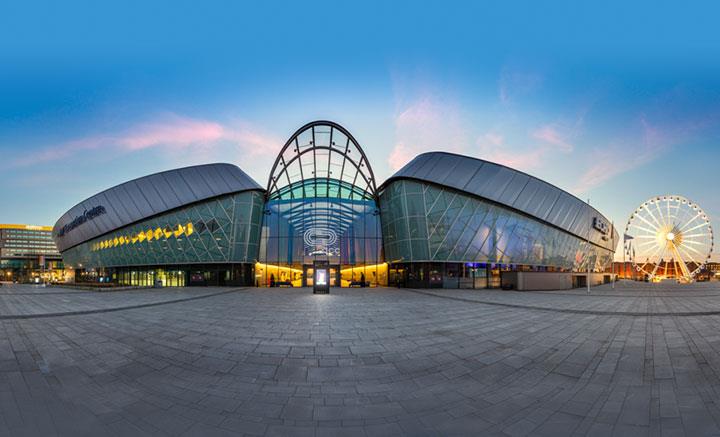 How to find the venue
Arrive by land, air, or sea. Two international airports, 20 minutes from the UK motorway network, and closer still to trains and ferries, ACC Liverpool is a venue that's easy to reach, but such a special place that it's always harder to leave.
Our address is Kings Dock, Liverpool Waterfront, Liverpool, Merseyside, L3 4FP.